Proxmox Backup Server 2.4 – Was gibt es Neues?
Wir freuen uns mit der Community, dass die Backup-Lösung Proxmox Backup Server, die wir auch für unsere NMMN Managed Shared Cloud und für die individuellen NMMN Hosted Private Clouds nutzen, in der neuen Version 2.4 veröffentlicht wurde. Die Version wurde am 29. März 2023 veröffentlicht. Diese Version basiert auf Debian Bullseye (11.6) und bietet einige Verbesserungen, die die Benutzerfreundlichkeit und Funktionalität des Systems erhöhen.
Der neueste 5.15.102 Kernel wird als stabil standardmäßig verwendet, während der neuere 6.2.6 Kernel als Opt-in verfügbar ist. Das ZFS-Dateisystem wurde auf Version 2.1.9 aktualisiert.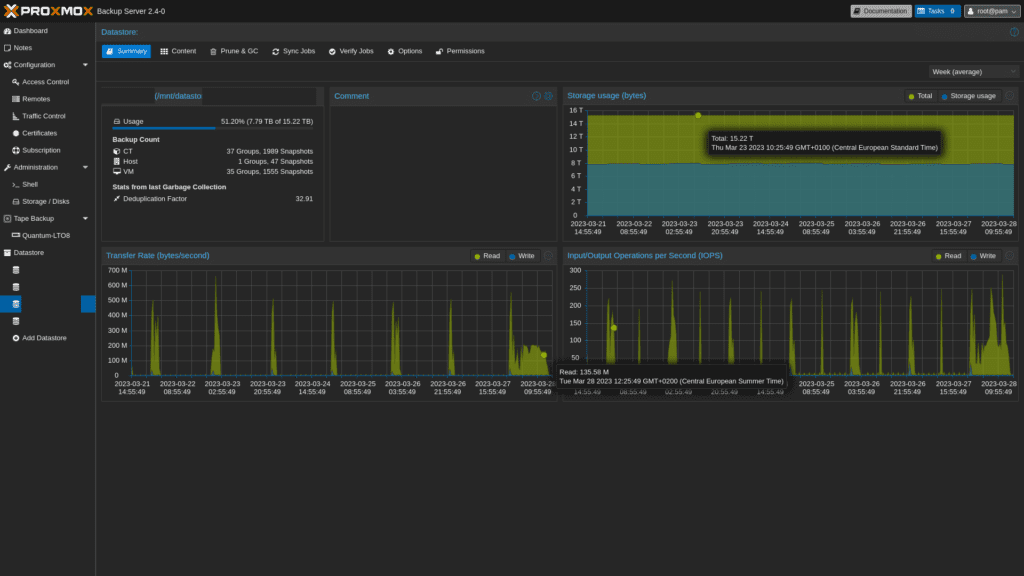 Eine der bemerkenswertesten Neuerungen von Proxmox Backup Server 2.4 ist die Einführung eines dunklen Themes für die Benutzeroberfläche sowie für die Dokumentation. Dies ist eine willkommene Abwechslung für Benutzer, die in dunklen Umgebungen arbeiten oder einfach eine andere Optik bevorzugen.
Eine weitere wichtige Funktion, die hinzugefügt wurde, ist die Unterstützung für LDAP als neue Benutzerauthentifizierung. Diese Funktion ermöglicht es Benutzern, sich mit einem externen LDAP-Server zu authentifizieren und manuell Benutzer hinzuzufügen oder automatisch von diesem Server zu synchronisieren.
Eine weitere wichtige Funktion ist die Einführung der Unterstützung für WORM (Write Once, Read Many) Tapes. Diese Funktion ermöglicht es Benutzern, bestimmte Aufgaben wie das Schreiben auf Tapes und das Wiederherstellen von Backups auf WORM-Tapes durchzuführen.
In der Benutzeroberfläche wurden auch einige Verbesserungen vorgenommen. Es gibt jetzt ein vollständig integriertes "Proxmox Dark" Theme, das in der Benutzerleiste über das neue Farb-Themen-Menü ausgewählt werden kann. Die bevorzugte Farbschema-Media-Abfrage des Browsers/OS wird verwendet, um das Standardfarbschema festzulegen.
Es gibt auch Verbesserungen im UI für Verifikationsjobs, die es Benutzern ermöglichen, den Namespace und die maximale Tiefe von Verifikationsjobs im Job-Editor zu bearbeiten. Das Dienstpanel in der Administrationssektion zeigt jetzt optional installierte Dienste als "nicht installiert" statt "tot" an. Die Planung für Garbage Collection (GC) kann jetzt leichter deaktiviert werden, indem man den X-Button im GC-Zeitplan-Fenster verwendet.
Es gibt auch Verbesserungen in der Kommandozeile-Tools für Benutzer, die sich für die manuelle Steuerung von Proxmox Backup Server entscheiden. Zum Beispiel kann der proxmox-backup-manager-CLI jetzt dazu verwendet werden, bestehende Prune-, Verifikations- oder Sync-Jobs manuell auszulösen. Das proxmox-backup-debug diff archive command zeigt nun Dateiattribute, hervorgehobene Änderungen und farbige Ausgabe an.
Zusätzlich gibt es auch Verbesserungen bei der Fehlerbehandlung und dem Reporting von Nachrichten, um die Benutzererfahrung zu verbessern. Diese Verbesserungen umfassen die Unterstützung der PBS_LOG-Umgebungsvariable, mit der Benutzer selbst entscheiden können, welche Nachrichten, Logquellen oder Log-Level für ihren speziellen Anwendungsfall relevant sind.
Das Installation ISO wurde ebenfalls aktualisiert. Die neueste Version von BusyBox (1.36.0) ist jetzt enthalten. Außerdem wird jetzt die Größe der EFI-Systempartition (ESP) auf 1 GB festgelegt, wenn die Root-Disk-Partition größer als 100 GB ist. Benutzer können jetzt auch UTC als Zeitzone während der Installation auswählen.
Zusammenfassend bietet Proxmox Backup Server 2.4 eine Reihe von Verbesserungen und neuen Funktionen, die die Benutzerfreundlichkeit und Funktionalität des Systems erhöhen. Von der Einführung eines dunklen Themes und LDAP-Unterstützung bis hin zur Unterstützung für WORM-Tapes und Verbesserungen in der Kommandozeile und Fehlerbehandlung, gibt es viele Gründe, warum Benutzer auf die neueste Version von Proxmox Backup Server upgraden sollten.
Als Open-Source-Software ist Proxmox Backup Server auch für Unternehmen und Einzelpersonen eine kostengünstige Option, um ihre Daten effektiv zu sichern und zu schützen. Mit seiner einfachen Bedienung und der Fähigkeit, eine Vielzahl von Dateisystemen und Backup-Zielen zu unterstützen, ist Proxmox Backup Server eine zuverlässige und effektive Backup-Lösung für alle Arten von Anwendungen und Umgebungen.
Hier noch die offizielle Release-Notes aus dem Proxmox-Forum.
---
---
Released 29. March 2023
Based on Debian Bullseye (11.6)
Latest 5.15.102 Kernel as stable default
Newer 6.2.6 kernel as opt-in
ZFS 2.1.9
Highlights
Proxmox Backup Server now provides a dark theme for the web interface & the documentation.
Add LDAP as a new user authentication realm.
Add initial support for WORM (write once, read many) tapes.
Changelog Overview
Enhancements in the web interface (GUI)
Add a fully-integrated "Proxmox Dark" theme variant of the long-time Crisp light theme.
By default, the prefers-color-scheme media query from the Browser/OS will be used to decide the default color scheme.
Users can override the theme via a newly added Color Theme menu in the user menu.
Task logs can now be downloaded directly as text files for further inspection.
The Add User dialog has now a realm field, making it possible to add users to an LDAP or OpenID Connect realm manually.
Improve the UI for verification jobs, showing the namespace and max-depth columns and allowing one to edit those fields in the edit job window (#4448).
While the API supported limiting a verification job to a specific namespace or depth since 2.2, such settings weren't editable nor visible in the web interface.
The 'Services' panel of the 'Administration' section now marks optional services that are not installed as not installed instead of marking them as dead.
In order to make it more obvious how to disable scheduled Garbage Collection (GC), the 'GC Schedule' window now shows an X button that resets the schedule to none.
For prune jobs, rename 'Store' to 'Datastore' for consistency reasons.
Fixed the default value for pruning mail notification settings in the datastore options.
Fixed rendering the 'Enabled' column for the 'Metric Server' view.
Improved translations, among others:

Arabic
French
German
Italian
Japanese
Russian
Slovenian
Simplified Chinese
Traditional Chinese
General Backend Improvements
Add LDAP realm authentication and user synchronization
This allows user authentication against an external LDAP server. In order to be able to log in, users in LDAP realms must be added manually. Alternatively, users can be synced automatically from the LDAP server.
Client Improvements
Suppress harmless but confusing "storing login ticket failed" errors when backing up to Proxmox Backup Server.
The proxmox-backup-manager CLI tool can now be used to trigger an existing prune, verification, or sync job manually.
The output of the proxmox-backup-debug diff archive command was improved.
The command now shows file attributes, highlights changes and has colored output.
Provide higher runtime control for logging in the pxar CLI tool (#4578).
Users can now decide themselves which messages, log sources or log levels are interesting for a particular use case through the PBS_LOG environment variable.
Various improvements for error handling and reported messages to improve user experience.
Tape backup
Add initial support for WORM (write once, read many) tapes
Skip unassigned tapes when updating the inventory
Tapes that are assigned to a pool but not yet in a media set belong to the special all-zero media set. Since there will never be a catalog on these tapes, trying to restore a catalog will always fail, so leave them out.
Installation ISO
the version of BusyBox shipped with the ISO was updated to version 1.36.0.
The EFI System Partition (ESP) defaults to 1 GiB of size if the root disk partition (hdsize) is bigger than 100 GB.
UTC can now be selected as timezone during installation.
Documentation
Expand the documentation for maintenance, focusing specifically on Garbage Collection (GC).
Link screenshots in the documentation to their image files.
Implement dark mode that honors the prefers-color-scheme media query automatically.
Add dark mode support to the API viewer widget.
Notable bug fixes
Don't interrupt tasks when pressing Ctrl + C when viewing task logs via proxmox-backup-manager task log or proxmox-backup-client task log (#4483).
proxmox-backup-client now prints task logs to stdout instead of stderr (#4387).
Removal of all associated prune jobs and ACL entries when their data store is deleted (#4256).
Fixed a bug where snapshots were not listed in a tape media set (#4466).
Warn if a login ticket could not be stored (e.g. due to $XDG_RUNTIME_DIR not being set, which can happen if invoked via sudo) (#4346).
Reduce lock contention of the verify-after-complete feature with periodic syncs (#4523).